Pro Nature Paint Products
ProNature offers a range of eco-friendly products made from natural elements such as beeswax, plant oils and extracts. Under their range of products, there is wall paint, plaster primer, wall protect, rock paint, wax balm and Mould Stop.
Wall Paint: Interior and exterior waterborne natural resin based wall finish. The product can be used for the finishing of all mineral substrates (Plaster, concrete etc.) and organic substrates (wall paper, wood etc.). ProNature Wall does not contain biocides found in conventional paints, thus in some instances, it might not be advisable to use exteriorly if walls are not protected from permanent moisture, as this could result in the growth of algae or mold.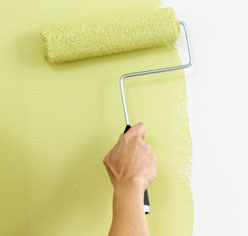 Plaster Primer: Interior & Exterior waterborne natural resin based plaster primer & wall finish. The plaster primer can be used for the pre-treatment of very absorbent or unevenly absorbing mineral substrates (plaster, concrete etc.) and organic substrates (wall paper, wood, rhino board etc.) as well as for additional protection against staining and soiling over ProNature Wall substrates or clay walls and for the priming of very absorbent surfaces before ProNature Wall is applied. This primer is available in white and clear.
ProNature Rock: A blend of plant oils and gum resin for the protection of rock surfaces, stone and masonry. Rock is used for the sealing of terra cotta tiles, slate, masonry, concrete, facebrick, clay and lime plaster. ProNature Rock is ready to use and needs no dilution.
Wax Balm: This is scented blend of natural oils and waxes for enhancing all wooden and mineral surfaces.  ProNature Wax Balm is for the universal treatment of furniture, toys, wooden ceilings, wall panelling, wooden floors as well as mineral substrates like slate, stone counter-tops etc. The Wax balm is ready to use and needs not to be diluted.
Get advice to fit your needs and budget
Call us today for advice that suits your specific Painting and Renovation needs and budget. Our team will advise you on the best possible solutions for your particular applications or renovations.